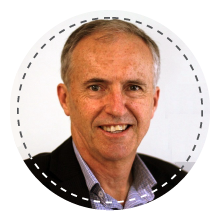 Steve Godbee
Steve Godbee leads IBM's CIO team in Australia and New Zealand. His business career has spanned over 35 years, performing local, regional and global roles, while living in Australia and in the USA. 
Steve is passionate about engaging with business leaders and users from across the business; to understand their dynamic and challenging business needs; to share his transformation and digital agendas; and to solicit feedback for growth and continuous improvement. He is committed to leading his team to utilize Agile and Design Thinking principles and practices to deliver capabilities that enable people to perform their work anytime, anywhere, and on any device.
Steve is regularly engaged by business units, clients, industry organisations and universities, for his expertise and experience in areas such as Leadership, Business Transformation, Digital Transformation, Agile Workplaces, Cloud, Mobile, Security and Cognitive Business.  While Steve recognises the role that technology plays as a catalyst for both Business and Digital transformation, he is always keen to stress the vital roles that Process and Culture play in effective transformation. 
Steve is active in promoting the advancement of ICT as a profession, both in Australia and Internationally. Steve is also a member of a number of industry and academic advisory groups, and is involved in mentoring students and leaders of the future. 
Steve is a Fellow of the ACS, and holds a degree in Computing Science from the University of Technology, Sydney.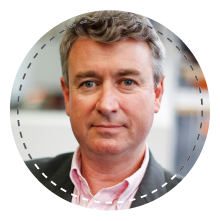 Ian Oppermann
Dr. Ian Oppermann is the NSW Government's Chief Data Scientist and CEO of the NSW Data Analytics Centre. Ian has 25 years' experience in the ICT sector and, has led organisations with more than 300 people, delivering products and outcomes that have impacted hundreds of millions of people globally. He has held senior management roles in Europe and Australia as Director for Radio Access Performance at Nokia, Global Head of Sales Partnering (network software) at Nokia Siemens Networks, and then Divisional Chief and Flagship Director at CSIRO. 
Ian is considered a thought leader in the area of the Digital Economy and is a regular speaker on "Big Data", broadband enabled services and the impact of technology on society. He has contributed to 6 books and co-authored more than 120 papers which have been cited more than 3500 times. Ian has an MBA from the University of London and a Doctor of Philosophy in Mobile Telecommunications from Sydney University. Ian is a Fellow of the Institute of Engineers Australia, a Fellow of the IEEE, a Fellow of the Australian Academy of Technological Sciences and Engineering, is a Fellow and Vice President of the Australian Computer Society, and a graduate member of the Australian Institute of Company Directors. Ian is also president of the Australia National Committee of the IEC and president of the JTC1 strategic advisory committee in Australia.
Frequently Asked Questions
1. When are the awards open and how do I nominate?

The ACS Digital Disruptors Awards are open for nominations from 9 August to 29 October. To nominate yourself or someone else go to: https://acsdigitaldisruptors.awardsplatform.com/
2. Can I change my submission once I have completed it?
You can edit your nomination submission as many times as you like until the cut off date on 29 October 2021, 11.59PM AEDT.
3. What are the award categories?
See our home page for more details on each award category.
4. Can I nominate myself? Or can I nominate a colleague?
Yes to both, you can either nominate yourself, your team or a colleague, client or partner that you work with as long as the criteria is met.
5. Can I submit a nomination for more than one category?
Yes, you can submit for as many categories as you choose. Make sure you meet the eligibility criteria for each category before submitting.
6. What is the key to a successful nomination?
Here are some top tips on submitting a successful nomination:
Check the terms and conditions to ensure that you meet the criteria.
Answer every question in the nomination form
Use specific examples in each question to demonstrate how the nominee has achieved the goals
Provide background and context for the areas of achievement, set the scene for why the nominee was able to succeed
Demonstrate with examples, the success measures and ongoing impact that the nominee has had either on the business or the ICT sector
Be concise in your answers, each answer should be no more than 500 words, so be specific and to the point with your answers
7. What happens after I submit my nomination?
Our judging process lasts about 6 weeks. In this time our panel of judges will review your nomination and give each question a ranking. Each question has a weighting association, so an average score for each nomination will be generated after the judging is completed. The judges will then meet to discuss if the scores met their expectations and resolve any tie breakers. After this process, the finalists will be decided.
8. Will I be notified about the outcome of my nomination?
All nominees will be notified on the 13th of December whether they are a finalist or not. If you are a finalist, you may be asked for some additional information so that we can profile you in the weeks leading up to the award ceremony. This may include being featured in:
ACS social media channels,
Articles in our Information Age publication,
Video interviews on our Sky News program, Create Disrupt Change,
Cameo pieces in our fortnightly e-news to members,
Branding on our website
9. When are the winners announced?
All winners will be announced on the evening of the 23rd of February at the Digital Disruptors Awards Dinner which takes place after the ACS Reimagination Thought Leaders Summit. You can purchase tickets to both the awards and the summit from the 1st of September.