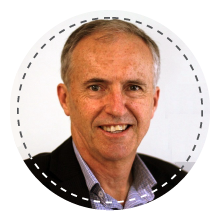 Steve Godbee
Steve Godbee leads IBM's CIO team in Australia and New Zealand. His business career has spanned over 35 years, performing local, regional and global roles, while living in Australia and in the USA. 
Steve is passionate about engaging with business leaders and users from across the business; to understand their dynamic and challenging business needs; to share his transformation and digital agendas; and to solicit feedback for growth and continuous improvement. He is committed to leading his team to utilize Agile and Design Thinking principles and practices to deliver capabilities that enable people to perform their work anytime, anywhere, and on any device.
Steve is regularly engaged by business units, clients, industry organisations and universities, for his expertise and experience in areas such as Leadership, Business Transformation, Digital Transformation, Agile Workplaces, Cloud, Mobile, Security and Cognitive Business.  While Steve recognises the role that technology plays as a catalyst for both Business and Digital transformation, he is always keen to stress the vital roles that Process and Culture play in effective transformation. 
Steve is active in promoting the advancement of ICT as a profession, both in Australia and Internationally. Steve is also a member of a number of industry and academic advisory groups, and is involved in mentoring students and leaders of the future. 
Steve is a Fellow of the ACS, and holds a degree in Computing Science from the University of Technology, Sydney.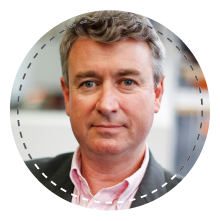 Ian Oppermann
Dr. Ian Oppermann is the NSW Government's Chief Data Scientist and CEO of the NSW Data Analytics Centre. Ian has 25 years' experience in the ICT sector and, has led organisations with more than 300 people, delivering products and outcomes that have impacted hundreds of millions of people globally. He has held senior management roles in Europe and Australia as Director for Radio Access Performance at Nokia, Global Head of Sales Partnering (network software) at Nokia Siemens Networks, and then Divisional Chief and Flagship Director at CSIRO. 
Ian is considered a thought leader in the area of the Digital Economy and is a regular speaker on "Big Data", broadband enabled services and the impact of technology on society. He has contributed to 6 books and co-authored more than 120 papers which have been cited more than 3500 times. Ian has an MBA from the University of London and a Doctor of Philosophy in Mobile Telecommunications from Sydney University. Ian is a Fellow of the Institute of Engineers Australia, a Fellow of the IEEE, a Fellow of the Australian Academy of Technological Sciences and Engineering, is a Fellow and Vice President of the Australian Computer Society, and a graduate member of the Australian Institute of Company Directors. Ian is also president of the Australia National Committee of the IEC and president of the JTC1 strategic advisory committee in Australia.
Frequently Asked Questions
1. Who is this event for?

Industry professionals including thought leaders, executives, innovators, and practicing professionals from around Australia. There is a dedicated virtual event stream for emerging professionals and students.
2. Who will be speaking?
Find the full program and confirmed speakers here.
3. How can I buy tickets and what form of payment is accepted?
Registrations are now open for tickets to the Reimagination Summit and Digital Disruptors Awards. All credit cards are accepted.
4. How do I attend the virtual event?
You will receive access to the Reimagination virtual platform and app upon registration. Further details about how to access the live stream on the day will be communicated closer to the date.
5. Is there an event app I can download?
Yes. When registering for the Reimagination Summit, you will be prompted to download the event app. The app provides the full program, a customisable profile, downloadable resources, notifications for important updates and the functionality to network with other delegates.
6. What is your refund policy? What happens in the case of a cancelled event?
All cancellations must be processed through the website, a refund will only be considered if it is at least 30 days prior to the event.
Up to thirty (30) days prior to the Summit cancellations will receive a 50% refund of fees payable
Less than thirty (30) days prior to the Summit there will be no refund
7. How do I become a partner of the ACS Reimagination Thought Leaders' Summit and Digital Disruptors Awards?
To become a partner, contact us at national.sales@acs.org.au.
Are you attending in-person?
Accommodation Options
1. The Hilton Hotel, 488 George St, Sydney CBD
The Hilton Hotel is offering 10% off their best available flexible room only online rate via this link.
2. The Grace Hotel, 77 York St, Sydney CBD
Located within a 5 minute walk, The Grace Hotel is conveniently located to the QVB, Wynyard Light Rail Stop and CBD shopping precinct.
The Grace Hotel is offering a room rate of $220 per room per night for a Signature Superior Room, including complimentary WIFI, subject to availability at time of reservation.
To make your booking:
Go to The Grace Hotel website
Enter the dates required and click on Book Now
Click on Add Code
Then select Rate Access/Corporate Code
Enter code SRACS02 then click on Add to obtain the special discounted rates
3. Swissotel Sydney, 68 Market St, Sydney
The Swissotel Sydney is located one block away from The Hilton, diagonally opposite the Queen Victoria Building and in the heart of Sydney's shopping precinct.
To obtain the best available rate, please call reservations on (02) 9238 8888.
Parking Options
1. Secure Parking at The Hilton, 259 Pitt Street, Sydney CBD
Early Bird Parking - Online rate must be booked online here
Enter between: 06:00am - 09:30am
Exit between: 03:00pm - 07:30pm
Online Rate: $20.00
Drive-up Rate: $31.00
Discounted parking is available for Hilton guests for $58.50 per day. You must visit the R22 Registration Desk to swap your Secure Parking ticket with a discounted ticket.
2. Queen Victoria Building Car Park, 111 York Street, Sydney CBD
Early Bird Parking - Online rate must be booked online here
Entry between: 6:00am - 9:30am
Exit between: 3:00pm - 7:30pm
Online Rate: $22.00
Drive-up Rate: $26.00
Ticket must be validated in the morning and parking is on Level 7.